Three Important Reasons to Hire a Car Accident Attorney
April 18, 2023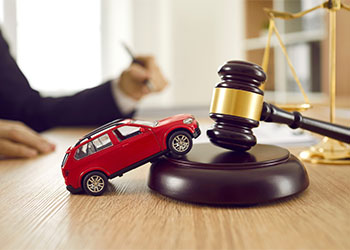 You have been injured in a car accident. You think the other driver was at fault for the crash, but you don't know for sure. Maybe you have health insurance that is paying for your medical bills. Maybe you are using sick days or vacation days at work to get paid, even though you can't work due to your injuries and doctor's visits. Or perhaps your medical bills keep accumulating while you go without a paycheck.
If you have contacted the at-fault driver's insurance company about filing a personal injury claim, you may or may not have heard back from the adjuster. Alternatively, maybe the adjuster has already offered you money to settle your claim, but it just doesn't seem like it is enough. Perhaps you are asking yourself whether you need an attorney after a car accident.
At Mohammadi & Humayun, LLC, we will respond to that question with a resounding yes. Our team has everything necessary to fight for the fair compensation you deserve. So, if you have been injured in Rockville, Howard County, Montgomery County, Frederick County, or Prince George's County, Maryland, here are three reasons why you should speak with a car accident attorney.
1. You Need Proof
In fault states such as Maryland, you will need to prove that the other driver was at fault for the accident. You will need to prove that the driver owed you a duty of care, breached that duty of care, and that you were injured and incurred damages as a result of the breach.
There is an even greater challenge. Maryland is a contributory negligence state. What that means is that if the other driver, or their insurance company, can prove you had any fault for the crash, you cannot pursue a personal injury claim. The emphasis is on "any" amount of blame. What that means is that even if the other driver is assigned 99% of the fault and you are assigned 1%, you cannot pursue financial compensation from the other driver.
Let us give you an example of how easy it can be for the other driver's insurance company to lay the fault on you. You were driving through an intersection with the green light when the other driver runs a red light and T-bones your vehicle. On the surface, it appears that you were in the right, and the other driver caused the accident. Now, let's say the insurance company has a witness who saw you talking on your cell phone with the device in your hand. Or, an investigation of your vehicle determines you were driving four miles over the posted speed limit at the time. In either case, you can be found minimally at fault and therefore are prohibited from pursuing a claim.
If you think the insurance company won't take the time or spend the money it takes to conduct an investigation of the crash, you are wrong. Insurance companies will spend hundreds or even thousands of dollars to avoid paying out a settlement worth more.
Your personal injury attorney will conduct a thorough investigation, gather all documents and evidence proving the fault of the other driver, and counter the attempts made by the insurance company to place fault on you. Your attorney will give you the best chance of prevailing in the pursuit of your claim.
2. Injuries Can Be Complicated
Some injuries can take a long time to heal. Moreover, during the process, you can experience complications that need additional treatment. The insurance company will be trying to settle quickly, especially if they see that your injuries may be worse than they first appeared. They want to pay as little compensation as possible.
Your lawyer will keep track of your progress by periodic review of your medical records. You should not settle a personal injury claim until your healthcare providers believe you have reached maximum medical improvement (MMI). Only then will you know the full extent and value of your injuries, and that knowledge is critical to your claim.
In addition to documenting all the economic damages you have incurred, such as your medical bills and lost wages, your personal injury attorney will need to value your non-economic damages. These include pain and suffering, loss of consortium for a spouse, and the impact of your injuries on your life. The fact that these types of damages are not attached to a bill makes them easy targets for the insurance company to shoot down unless you have an experienced attorney fighting for you.
3. Negotiating With Insurers Requires Experience
As you can see, insurance companies will use time, money, and other resources to devalue or deny your personal injury claim. You need attorney representation of your own to level the negotiating field.
As long-time personal injury attorneys, we know the tricks of the insurance trade and how to counter them. Our job isn't just to know the law, but to know how to use the law to negotiate from a position of strength. We recognize opportunities and predict how adjusters will respond to offers and counteroffers.
What you settle for and when, or if you choose to go to trial, we are there every step of the way, offering legal guidance. Every decision about your claim is yours.
What You Should Ask a Personal Injury Attorney
You don't have to sign a contract with the first car accident attorney you talk to. You have options. Instead, understand that you are interviewing who you will entrust with your case. Because it's an interview, you should ask a few key questions.
Ask the lawyer if they have successfully represented other clients in which the circumstances of the claim are the same or similar.
Ask them if they are expecting you to pay anything out of pocket unless and until you settle your claim or obtain a judgment at trial. Personal injury cases are typically handled on a contingency basis, which means you owe nothing for legal representation until you collect compensation.
Ask them who you will be working with routinely. Although the attorney will likely assign a paralegal or legal assistant to work with your file and talk to you when the attorney cannot, the attorney should be the person you work with and the person working on your file the majority of the time.
Finally, rely on your instinct. If after meeting with an attorney you feel informed, less stressed, and trust them, you may have found your advocate.
Legal Guidance Every Step of the Way
At Mohammadi & Humayun, LLC, in Rockland, Maryland, we are proud to be tenacious legal advocates for our personal injury clients. You are why we do what we do.
If you are ready to talk about how we can help with your personal injury claim, contact our firm today to schedule a free case consultation. We can give you even more reasons to put us in your corner.