What You Should Know About Winter Driving Accidents
Jan. 12, 2023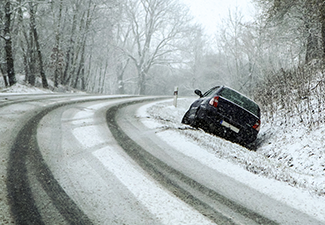 Winter can bring with it a lot of positive things, like the holidays, skiing, snowboarding, and just cozying up with loved ones next to a fire. However, it can also bring with it severe winter weather which can make road conditions extremely hazardous and cause serious accidents.
If you've been in a car accident due to snow or ice and aren't sure how to proceed with your insurance claim, reach out to our team at Mohammadi & Humayun, LLC in Rockville, Maryland. From our home offices, we're happy to serve clients who have been in a winter weather car accident in Montgomery County, Prince George's County, Howard County, and Fredrick County. Work with our skilled car accident attorneys today.
Maryland Is a Fault State
In any type of accident, regardless of what time of year it happens or what the weather conditions are, you need to know the proper steps for reporting the accident and filing an insurance claim. Maryland is what's known as an at fault state, and this simply states that the driver who's found to be at fault for the accident occurring is also responsible for paying any damages that occur because of the accident.
In practice, this means that the victim of the car crash will first file a claim with the other driver before (or in lieu of) filing a claim with their own provider. This is in contrast to a "no fault" state in which each driver—regardless of fault—first files a claim on their own insurance policy.
Maryland also follows a contributory negligence rule that adds another level of complexity to the idea of liability. This law says that if you share a portion of responsibility for the accident happening—even 1% of liability—then you are barred from seeking any damages from the other party. This seemingly harsh rule makes it essential that you work with a competent car accident attorney who can thoroughly investigate the crash and work to get you the compensation you deserve.
Liability for Weather-Related Negligent Behavior
In many car accidents, it's clear who caused the accident. However, in snowy and icy conditions, you'll likely ask, "Who is liable for an accident caused by weather?" In some cases, there will be nobody who's clearly at fault, and it could simply be an unfortunate accident caused by severe weather that neither driver could have avoided.
In other cases, one driver could be found liable if they weren't engaging in safe driving practices. For example, if the roads were snowy or icy, or if there was poor visibility, all cars should reduce their speed so they're better able to respond. If a driver was going too fast and this resulted in a crash, they could be held liable for the accident. In other situations, if a driver was found to be driving carelessly or reckless or if they were following too closely behind another car, this could also cause an accident.
Maryland Car Safety Laws
Although Maryland doesn't always see severe winter weather, there are some state laws that apply to road safety and operating a car that can pertain to driving in the snow or ice.
Specifically, there is no state law that requires you to use chains or studded tires in these conditions except when a snow-emergency has been declared, though doing so can drastically reduce the odds that you're involved in an accident.
Additionally, all drivers and passengers must wear a seatbelt at all times, and drivers must turn on their headlights anytime their windshield wipers are in use. Both these practices can ensure a safer driving experience in adverse weather conditions.
Don't face your car accident alone. Reach out to our personal injury attorneys, and get their support.
Tips for Driving in Winter Weather
Even if you grew up in a snowy climate, driving in winter weather can still present a lot of risks. And, even if you feel confident and capable on the road, that doesn't mean that your fellow drivers will feel the same way. By following a few basic tips about how to stay accident-free under these conditions, you can help make everyone on the road a little safer.
The first thing to learn is how to handle your vehicle should you start to slip on ice. Never slam on the brakes. Instead, take your foot off the gas and try to steer in the direction you're headed while lightly tapping on the brakes.

You should also reduce your speed.

Increase the following distance between you and the car in front of you. This will provide more time to react to an unforeseen situation.

Finally, make sure all the snow and ice is cleared from your vehicle before you start driving for maximum visibility.
Experienced Guidance You Can Depend On
If you'd like to speak with a personal injury attorney about a recent accident you've been in that involved winter weather, contact us at Mohammadi & Humayun, LLC. We're proud to serve clients in and around the Rockville, Maryland, area.